It's all about the user interface. Effective user interface design increases customer satisfaction. We carefully create both front-ends and back-ends for usability. Every company needs a professional website. Your website is just as important as your business card, as it is the first place many people will begin their search for you.
A professional graphic design helps your business stand out head and shoulders from counterparts. It is imperative for every business in current epoch because it positively impacts the brand image of a company.
Some of the Graphics Design services that we offer: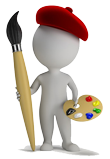 Responsive Web design that adjusts with different screen sizes and Mobile Website Design for all Mobile devices
At 
, we provide ultimate responsive website design services that detects the browser, device and its screen resolution and displays the website accordingly, we have been able to produce some great responsive website designs by using the latest technologies like HTML5 and CSS3 for fluid website designs.
Some of the services we offer around Responsive Design:

Whatever you need – We Can Do It
Whether you need a simple website design or custom web development, we are the digital agency you are looking for. From Word Press design and programming to complex web development – we've got you covered.
Our team of web design experts creates high end and engaging websites from scratch, and our web development team takes it to launch. We understand the web design process and with years of refining our process, we believe that we can offer you a streamlined approach to taking your ideas and requirements, and delivering a website that is not only designed to the highest specification, but also functional and on target to achieve your business goals.
Some of the Web Design services that we offer:
Content Management System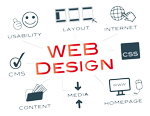 What is your company all about? What is it trying to say?
designers can help you create and hone your brand identity and translate it to online, print and other offline spaces. Our versatile design team brings extensive experience in both print and digital arenas.
Corporate Identity is all about communication and making an impression. It is a visual representation of your business. Quality graphic design will improve your marketing materials in many ways and can help your business come across as successful and professional. We cover logo design, print design, advertising and emails, We also Provide style guides to our clients to maintain consistency with the brand identity we create and instructions on how to properly use logos, fonts, colors, photography, tone of voice in messaging.
Some of the Corporate Identity services that we offer: